Artist Statement
Boxes are mysterious. Part of the attraction of a beautiful box is the mystery of the special things it might contain.


We chose the name Wild Woods because of its many meanings. It represents the beautiful wilderness in which Atlin is situated as well as the local wild species of wood such as poplar burl and diamond willow and other woods from around the world used in our pieces. More importantly, it represents our unconventional approach to art- shaping wood like clay.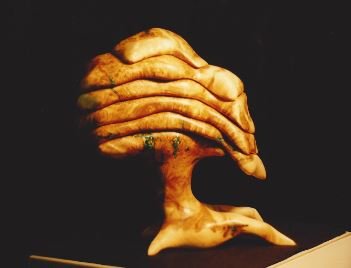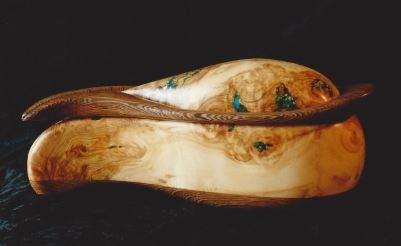 We have decided not to be limited by conventional notions in piece we create – a box does not have to be square. Most of our work is shaped with soft curves that sometimes hint at sensuality and always cry out to be touched. You need to feel and touch our work to really appreciate it.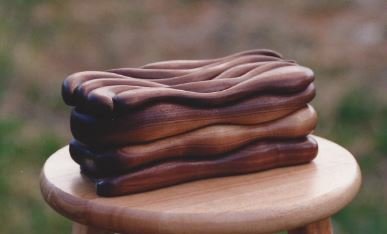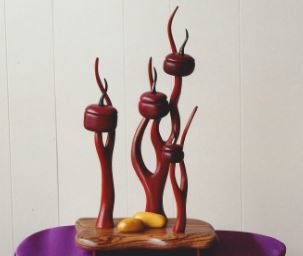 About Our Work
All of our work is created using a band saw. Basically, a box is constructed by cutting off the top and bottom of a block of wood, cutting out the inside and gluing the bottom back on. This technique, though simple, allows for sensuous curves and intriguing shapes. Any piece of wood of any shape can be made into a box if it is big enough to have a cavity in it. Our pieces are more similar to sculptures than traditional square boxes.


This technique is particularly suitable for burls. Burls are wart like growths found on some trees and are caused by disease or injury. The pattern of the grain within, however, is very beautiful and prized by wood workers around the world. In the Atlin area, we have ready access to poplar burls and they have become a mainstay of our business. We inlay semi-precious minerals, such as malachite (green), turquoise (light blue) and azurite (dark blue), and real placer gold flakes from our local creeks in the cavities found in the burls.


The cavity is then filled with cyanoacrylate glue (super glue) and then sanded to a smooth clear finish. The inlay appears to have naturally grown within the burl. In fact, people have asked us many times, if trees in Atlin grow like this. All our wood products are finished with danish oil and carnuba wax.




We have also used many other hardwoods from around the world, including black walnut, maple, paduak, osage orange, purpleheart and many more. We look for wood that has features that others may see as flaws such as knots, as it's in these pieces that the most beautiful grain patterns can be found.


As most wood can only be purchased in plank form not readily usable with a band saw, we have developed techniques to overcome this. We shape and layer individual planks and pieces together, re-assembled into soft and sensuous boxes. We have also laminated planks together, often in contrasting woods, to create a solid block that we can then sculpt with the band saw.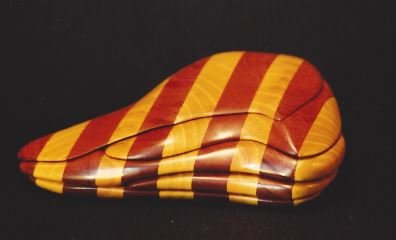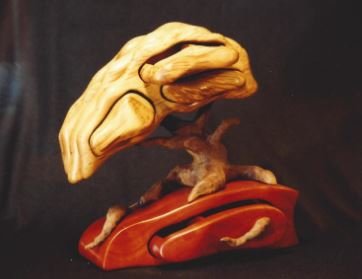 These techniques allow us unlimited creativity and no two boxes are identical. All of our sculpted boxes are individually numbered. There are less than 2500 of these boxes existing in the world today, and they are becoming collector items.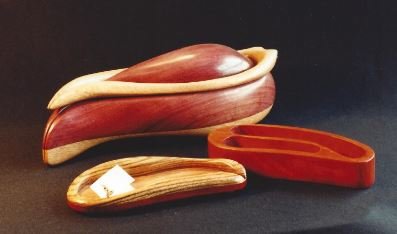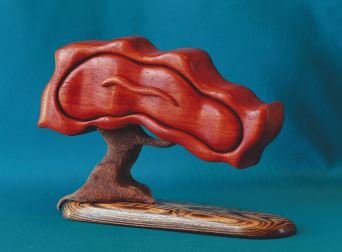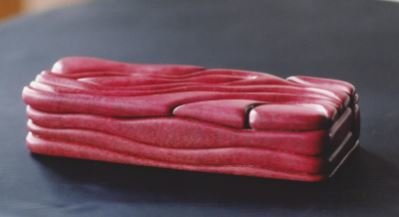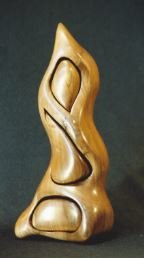 We also have developed other smaller pieces such as bottle stoppers, business card holders and tea light holders. These we form using poplar burl and they are inlaid like our boxes.
Recently we have started making wood serving boards and using moose antler to form handles for cheese knives and spreaders. These smaller pieces give our patrons more affordable options to enjoy our work.